Several months after revealing the name and mission fueling their upcoming non-profit organization, the famous Duke and Duchess of Sussex have officially launched an online site for the project. When entering Archewell.com, online visitors are saluted by a minimalist landing page draped in a caming solid-taupe background and the term Archewell broken down and defined.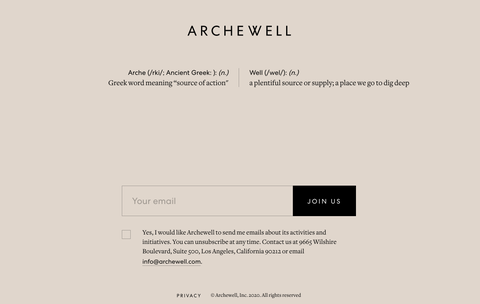 "Arche (/rki/; Ancient Greek: ): (n.) Greek word meaning 'source of action,'" reads the first deconstrucion. "Well (/wel/): (n.) a plentiful source or supply; a place we go to dig deep," reads the latter part. After reading the deifinition of Archewell, one has an option to subscribe to receive emails from the organization as in order to learn more about the upcoming activities and initiatives of the organization.
"Before SussexRoyal, came the idea of 'Arche'—the Greek word meaning 'source of action.' We connected to this concept for the charitable organization we hoped to build one day, and it became the inspiration for our son's name," said the Sussexes in a statement upon the original announcement of Archewell. "To do something of meaning, to do something that matters. Archewell is a name that combines an ancient word for strength and action, and another that evokes the deep resources we each must draw upon."
The famous, royal couple have remained silent on what types of projects are in the pipeline for the Archewell launch.