Harvest at Trademark Hotel
Harvest Restaurant is a relatively new place in the market. It is located inside the new wing of Village Market shopping mall in the Rosslyn side of Nairobi. Just as the name suggests, the meals served at Harvest truly taste of the bounteous collection of food and grains from the continent. The space offers an open-kitchen fine dining appeal for the upper-class clientele with discerning tastes. The portions are quite generous and so, it is very easy to order an entree without adding too much after.
Harvest is the kind of place one goes to have long, relaxing time. It is not for those in a hurry because the ambiance is quite inviting and the atmosphere speaks of patience. Some favourites selections include: Buttermilk cornflake fried chicken; grilled salmon steak with polenta sticks; and a chocolate ice-cream dessert. As you conclude your dining experience, don't forget to ask for their fragrant chamomile tea. Harvest accepts reservations as well as walk-in dining. The best advise is to call especially for evening hours as the place tends to fill up real quick with families from the upscale vicinity.
Located in the depths of the Karen Suburb of Nairobi, Hemingways is the perfectly quite space to spend time at on any given day of the week. In particular, if you are looking to spend solo moments, the best times to go would be between Monday to Thursday as those hours tend to be a bit on the quiet side. Hemingways is an accommodation hotel property which hosts sleep-in guests as well as restaurant experience.
Guests who are in the mood for a stay-cation can enjoy some few days off by booking in a few nights at the property. While, those who are in the mood for an eating-in experience can show up within the hours of opening which, these days only last till about 7:00 P.M. Some best recommendations to enjoy at Hemingways include: grilled T-Bone steak which is actually flame-grilled and not pan-seared; Their calamari-fritti is always a delicious starter that cannot be ignored as it is ever fresh, and fried in clean oil; their chocolate dessert is a delicious dessert worth concluding the dining experience; and their pan-seared salmon on skin is a delicious seafood option for those who are on a non-red-meat diet. 
Hemingways also offers afternoon-tea-party at the terrace. The experience comes with handcrafted miniature cakes, gateaux opera, fruit delice, mini-éclairs and fruit tartlets. These awesome treats can be freshly drowned using some frizzy prosecco, Kenyan coffee, or tea.
The Capital Club
The Capital Club East Africa is not a place where you just rear your head without prior information. This is a members-only space where corporate executives and like minded highly achieving influential business people can meet for a business lunch. Capital Club has a strict membership on-boarding process and the establishment has been known to turn down applications for some of the famous members of the political elite in Kenya.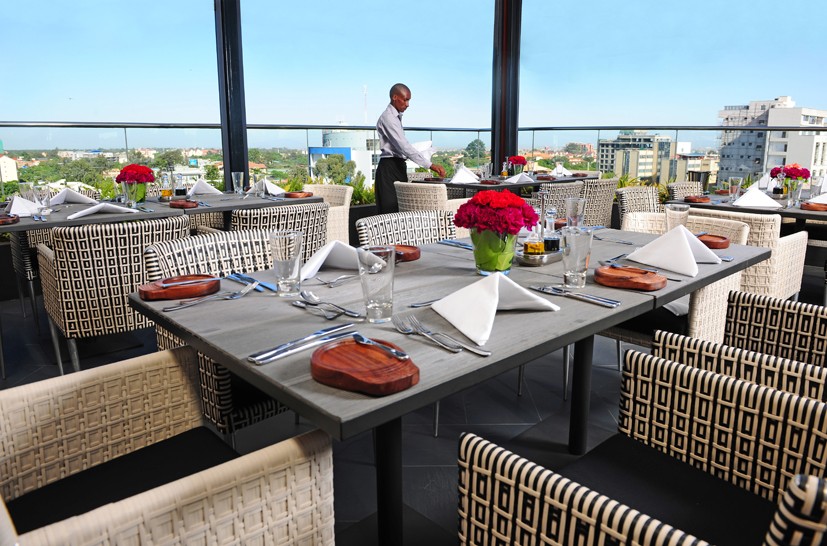 The Club has several services for its members however, should you get the chance to be hosted for a meeting at The Club, highly likely your meeting will be at the 7th floor restaurant area. The restaurant is fully fitted with a beautiful bar, kitchen, and open-seating. What stands out most is the wine-list which is mostly crowded by some of the best wines from South Africa. The choices of whisky are also a thing to admire as The Club tends to host some of the best aged whisky brands. A personal recommendation for a meal would be their rib-eye steak which is typically quite filling. They also have a chocolate dessert treat which goes well with a properly aged South African shiraz. To avoid disappointments at the door, be sure to have a member host you as a guest, otherwise you risk the embarrassment of being turned away at the reception.