Going to the hotel Alila Jabal Akhdar is basically going on an adventure at the Jabal Akhdar which is, the central massif of the Hajar Mountains. The Hajar Mountains is an impressive range that runs through the northern part of the Sultanate of Oman.
While at first sight, the hotel seems invisible because it is perfectly integrated with the mineral landscape, it is revealed at the last minute, like an oasis in the land of the mirages. Perched at some 2000 meters above sea level and built from the rocks of the mountain, the Alila Jabal Akhdar is an architectural adventure.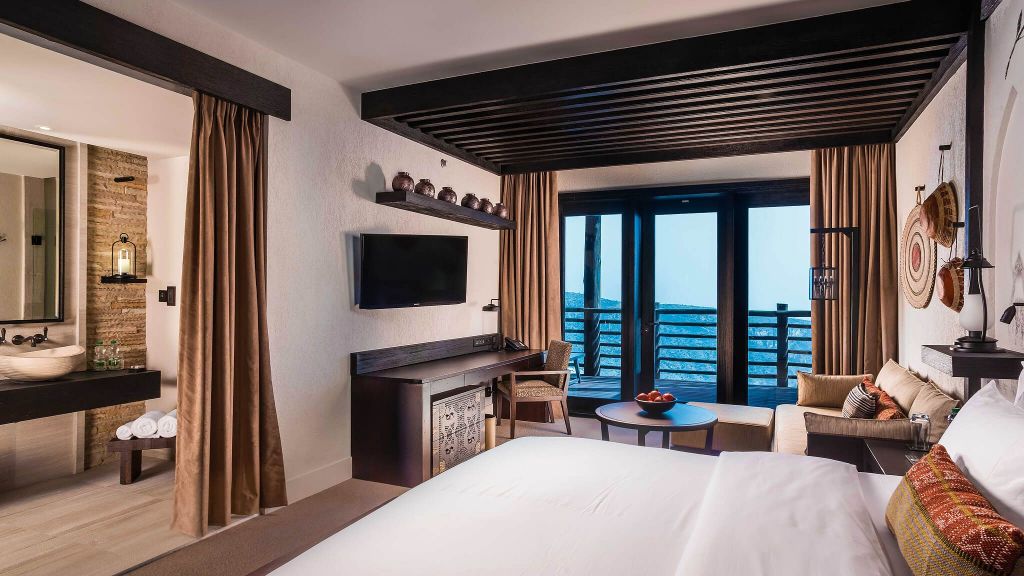 With its low buildings and its privileged location on the edge of a vertiginous canyon, it offers a simply magical and spectacular view.
Construction of the site required more than two years of extensive work. In order to fully respect the spirit of traditional dwellings, local artisans were hired to rediscover the typical colors and shapes of the region. And, while this architecture is geometric and square on the outside, to better blend with the local customs, it gives way to a more designed approach inside.
The simple but sophisticated decor, local craft products, and extremely noble materials give off an immediate sweetness and palpable serenity.
There are 84 spacious suites on site with carved wooden furniture, king-sized beds, hand painted juniper dividers, and stone balconies facing the horizon. The bathrooms, imposing in size and equipped with marble bath tubs are also sober and elegant: with noble materials, pastel colors, there is an instant impression of well-being and instant relaxation.
Two sublime independent villas complete the offer and are a real must! Walk along the stone walls that lead for example to the Juniper restaurant. A large bright room with branches of dried juniper trees on the walls, a terrace overlooking the iconic landscape, a map that revisits oriental cuisine, with a focus on Omani and Lebanese cuisines…. . The icing on the cake: the Alila Jabal Akhdar is equipped with a spa and an infinity swimming pool perfectly positioned to enjoy a drink, while embracing the entire landscape in one glance.
A haven of peace that perfectly combines authenticity, simplicity, and luxury……