Four haute joaillerie sets that allude to the charming setting of the Floating City.
Without a doubt, a gondola ride through the winding canals of Venice is the closest you can get to an authentic experience of living la dolce vita. Venice, as a whole, is an enchanting wonderland: Quaint pebbled-stoned pathways, charming piazzas and darling cafés that serve the best affegato or gelato to quell the Italian sun. It's no surprise that Venice is such a cherished spot for Mademoiselle Gabrielle Chanel. So much so, Patrice Leguéreau, director of Chanel's jewellery creation studio, has created a new 70-piece collection — 22 of which are one-of-a-kind designs — as dedication to the Floating City.
Considering sticky travel situations of late, we can only close our eyes and dream — or dig deep and then deeper into pockets to pick up one of the pieces below if you can. Introducing: Escale à Venise.
La Sérénissime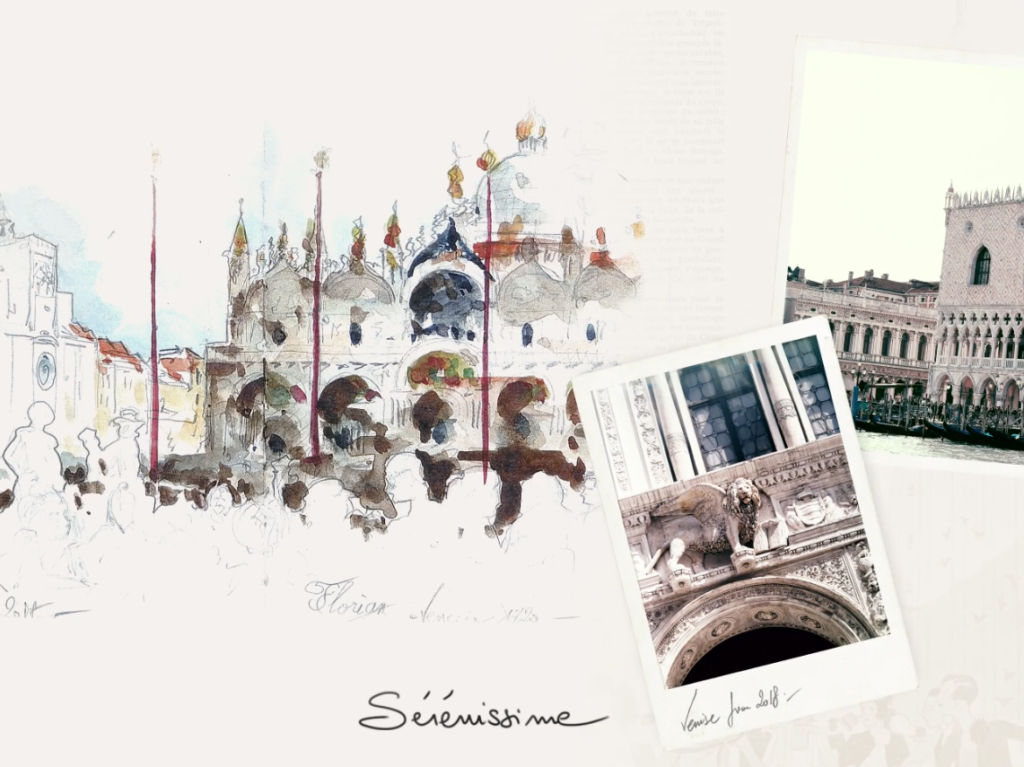 The geometric silhouettes and angled shapes of La Sérénissime bring the architectural skyline of picturesque city as dazzling jewellery keepsakes in two different parts — coincidentally in patterns that also gestures towards the quilted pattern so iconic at the French House. In the Eblouissante set, distinctly pink and white stones are pieced together to replicate the diamond-shaped patterns that encase palace façades and tessellated marble tiles inside venerable churches. Sérénissime, replicates the intricate mosaics of the 'Golden Basilica' (St. Mark's Basilica) when captured under the soft glow of natural sunlight — a stunning range of pinks, yellows and oranges diamond and gemstones.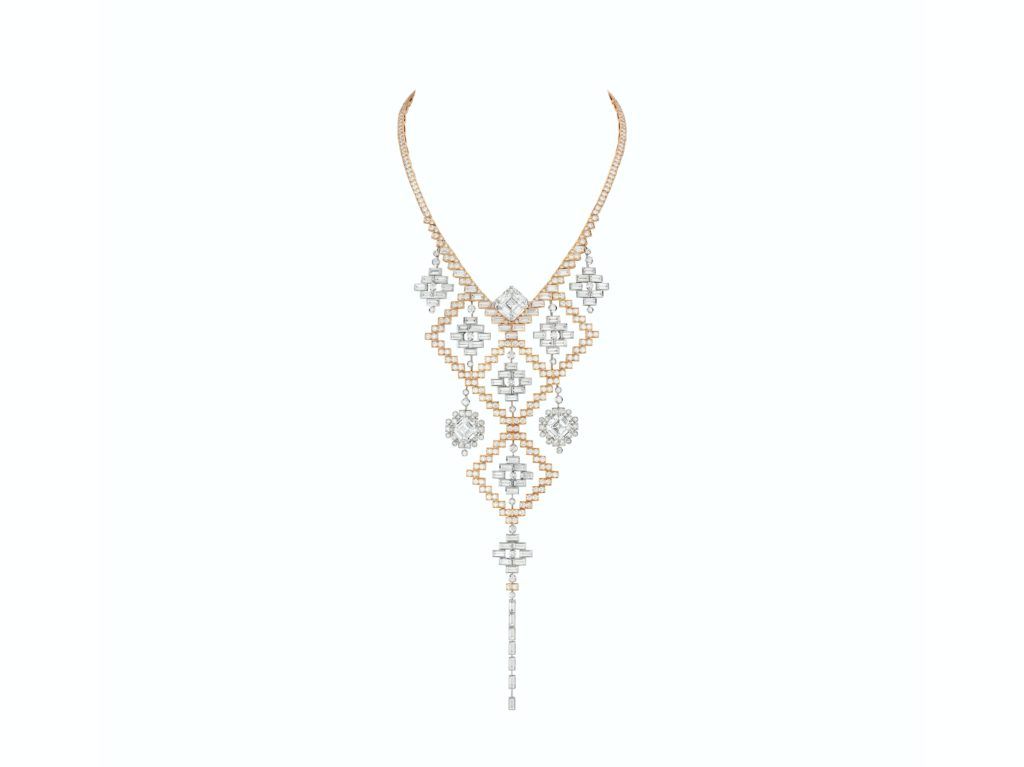 Gran Canale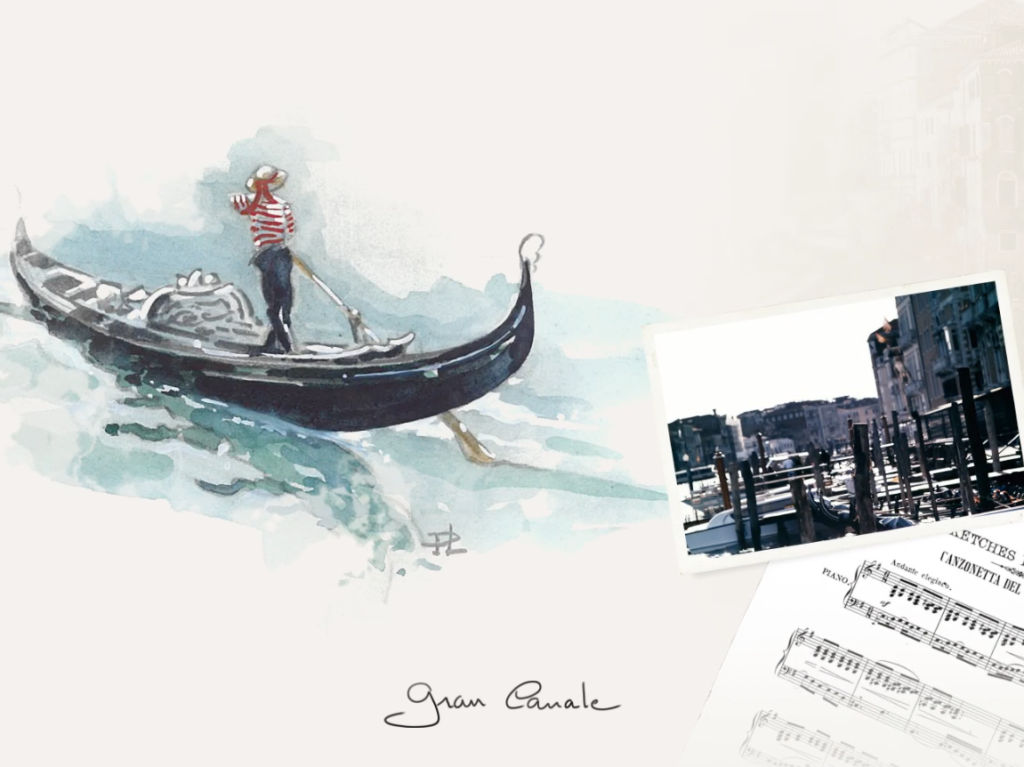 Perhaps the most defining feature of Venice: the meandering waterways of the Grand Canal. Its titular collection is broken down into four sets, each a spotlighted detail from the age-old landmark — nautical stripes and ornate structures included. The diagonal stripes of Volute Vénitienne belong to the blue and white mooring poles that dock the gondolas with lapis lazuli and diamonds, as do Volute Marine with the addition of diamond-studded stars. Volute Croisière alludes to the red and white posts (different stripes are representative of the palace or house they belong to) and are finished with twisted borders that allude to mooring rope knotted upon the wooden boardwalks.
The gondoliers wide-brimmed boater hats tied with a wind-swept red ribbon is of course not missed and are given literal reimagination with diamonds in Ruban Canotier, brought out as a standalone focus on pendants and bracelet buckles.
Isole della Laguna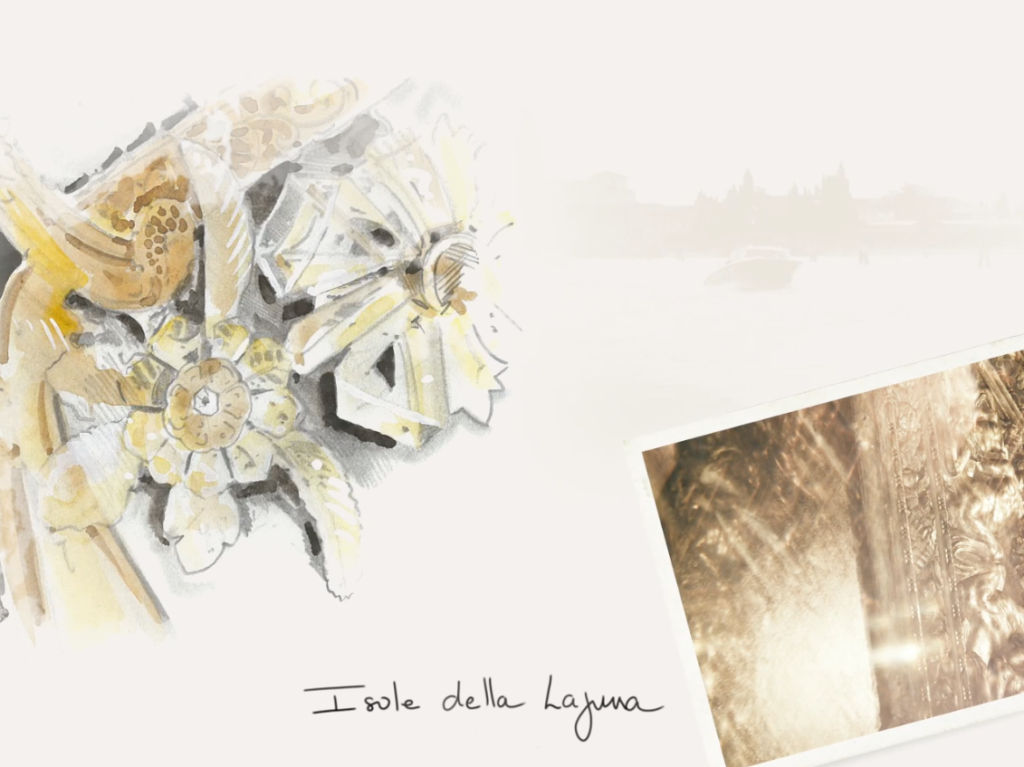 The Métiers d'Art of surrounding islands in the Venice lagoon inspire the setting techniques behind Isole Della Laguna — a collection thoughtfully devoted to spotlighting Chanel's iconic camellia flower. Torcello, beloved for its ancient mosaics is recreated through Camélia Byzantin, which demonstrates an illustrative exemplar of the time-honoured, detailed handiwork through hard stones in various technicolour hues. The camellia, in particular, dazzles in vibrant shades of ruby. Camélia Vénitien turns to the delicate glasswork from Murano in gentler, pared-back strides of clear rock crystals and yellow gold upon intricate open-work silhouettes. Here, the camellia is embellished within intertwining diamond-studded garlands, imitating the Venetian mirrors that decorated the walls of Gabrielle Chanel's rue Cambon apartment.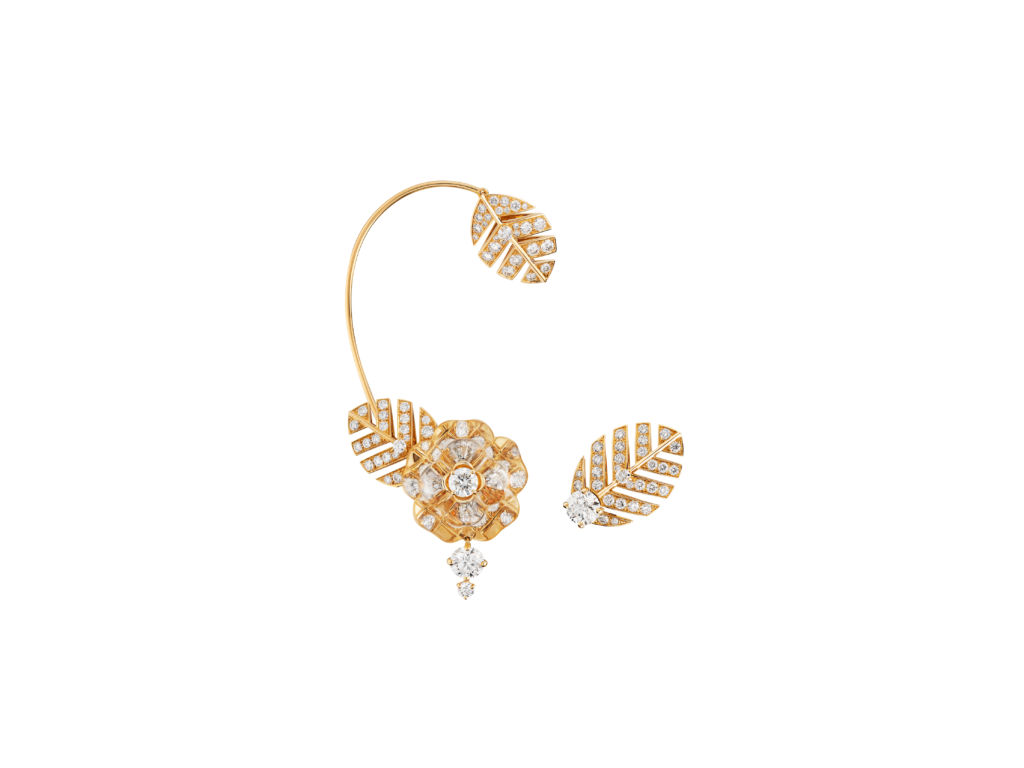 Spirito di Venezia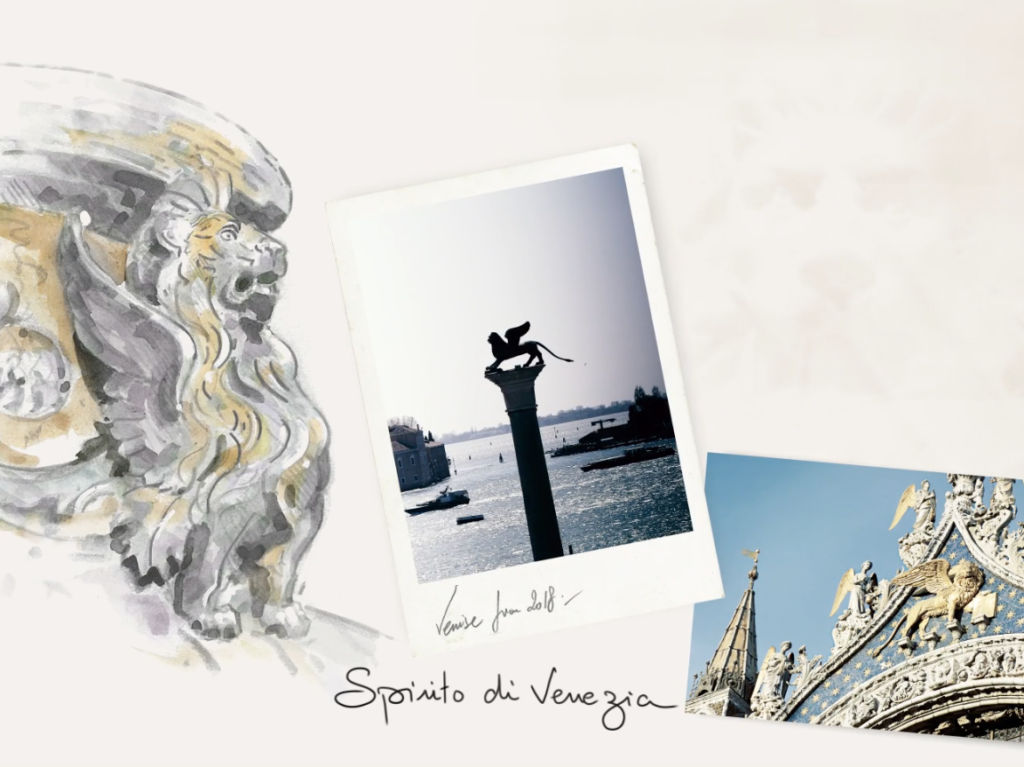 The final chapter, Spirito di Venezia, is an honest tribute to the overarching spirit of the Italian archipelagos: the majestic lion. Also a figure of Gabrielle Chanel's Leo star sign and thus, one of her favourite talisman, this marks the lion's fifth appearance in a Chanel high jewellery showcase. Four sets are dedicated towards presenting the feline in different lights: Lion Embléatique and Lion Secret present stately, sovereign pieces designed after royal crests on grand pedestals found dotted around the islands with gleaming golden medallions and diamond-studded reglia.
Meanwhile, a dash of Venetian magic as the mythological winged lion, spotted soaring across the domed ceiling in St. Mark's Basilica, is recreated with brilliant diamonds in Lion Céleste's ornate bijouteries. The twinkling evening sky in which it glides upon is brought into three-dimension with Constellation Astrale, where carved lapis lazuli are beautifully pieced together in mosaic-like form, sidled by a nebula of sparkling yellow sapphire stars.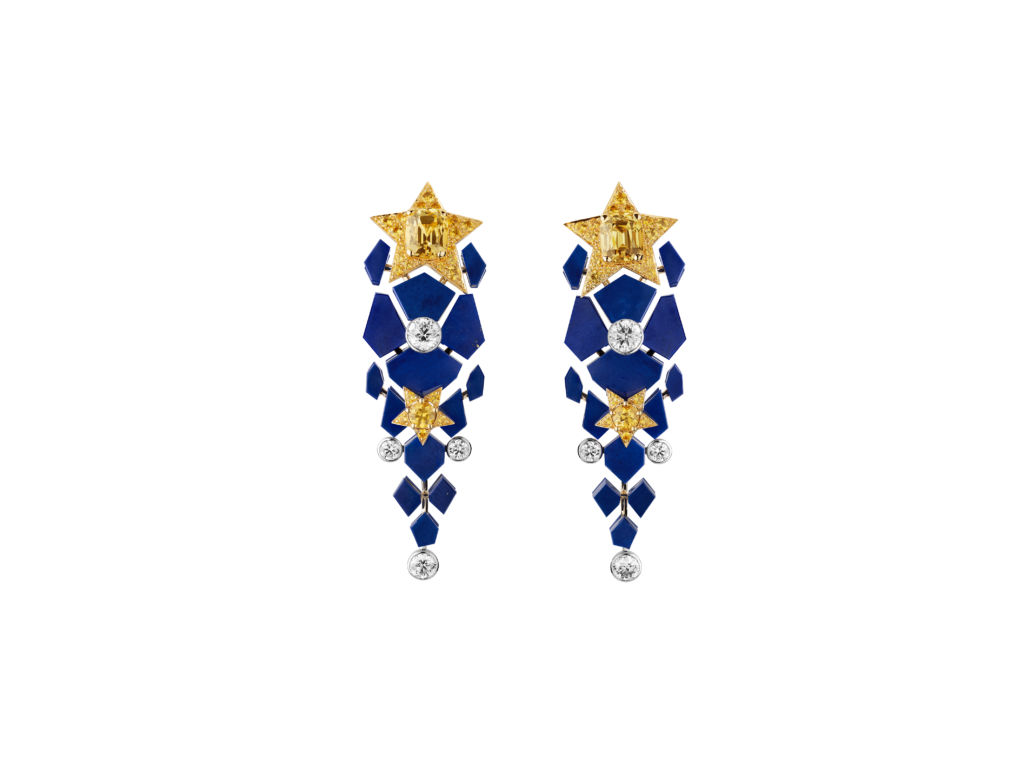 See more of Chanel's high jewellery collection here.
Images courtesy of Chanel
This article was written by Lorria Sahmet of Lifestyle Asia